Are we home gardeners getting away from the real meaning of organic? Should it mean just that our peas or the apples are grown organically and therefore is it ok to disregard the fact that they were grown in a plastic house, fed by water in plastic pipes, labelled with plastic labels and stored in plastic bags ?
Plastic is made from oil, mostly in places far away from where we live. We cannot legitimately say we are reducing food miles if the produce is raised in plastic houses. I even disagree with calling such food "organic" and free of artificial chemicals when so many chemicals have been used in its manufacture through the production of plastic.
I don't want to upset people who have just invested time and money in setting themselves up with a poly house and I understand that glass can be more expensive and certainly more time-consuming to construct, but there is a limit to how much plastic you can use and still call your food organic, I think.
Living in Tasmania now, I fully understand why a bit of extra help with getting things going and producing before the end of summer comes, is so necessary but, oh lalalala, isn't there another way? And I did not believe that the mad scheme of the South Australia government's to fill everyone's gardens with hundreds of metres of plastic drip irrigation was an intelligent way of dealing with a water shortage primarily caused by very poor government regulation on water licenses along the Murray River!
If we are truly seriously trying to live a greener life by growing our own, organic food we MUST stop investing in oil-based props to do so and, in fact, to do most things in our lives. Of course there are always compromises and I am as guilty as anyone else at not always taking the greenest option on things. Anyway, here are some of my ideas: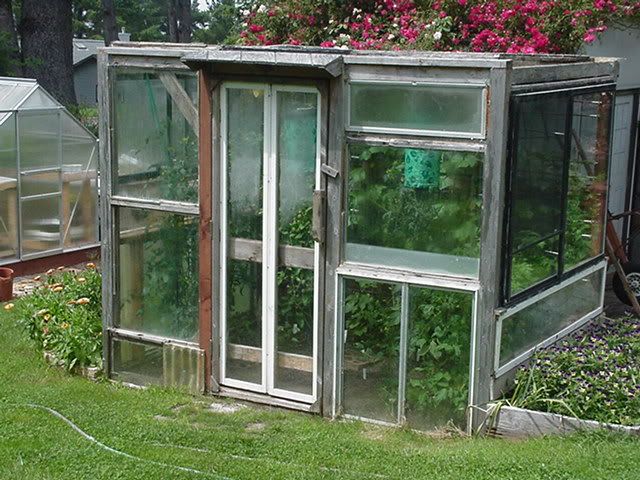 Find old windows before you start making your hothouse frame. Think outside the square and not follow some pre-conceived idea you have about what shape a glasshouse should be. I recommend collecting as many louvres as possible so you have ultimate control over the air flow and temperature... or putting hinges on old windows you find, or using sliding windows.
(Photos from Garden Web)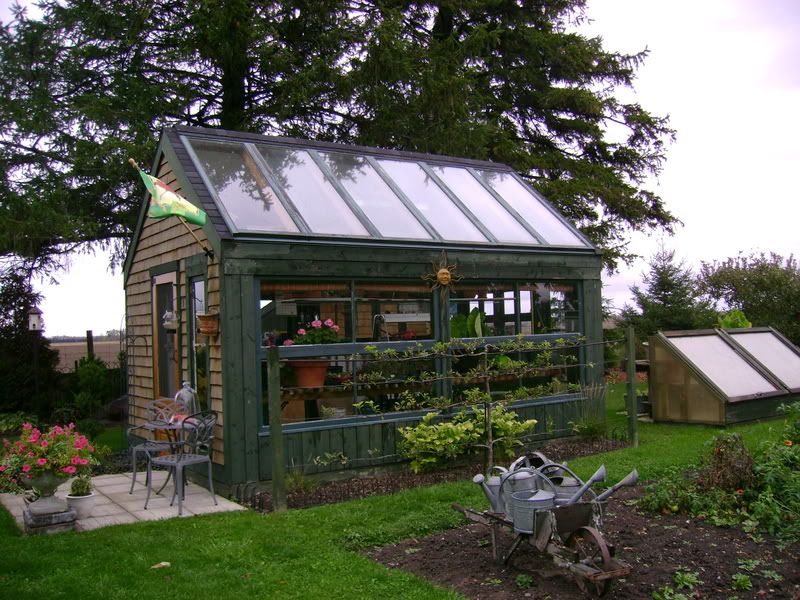 Also on Garden Web is this fabulous one and all the details on how they did it: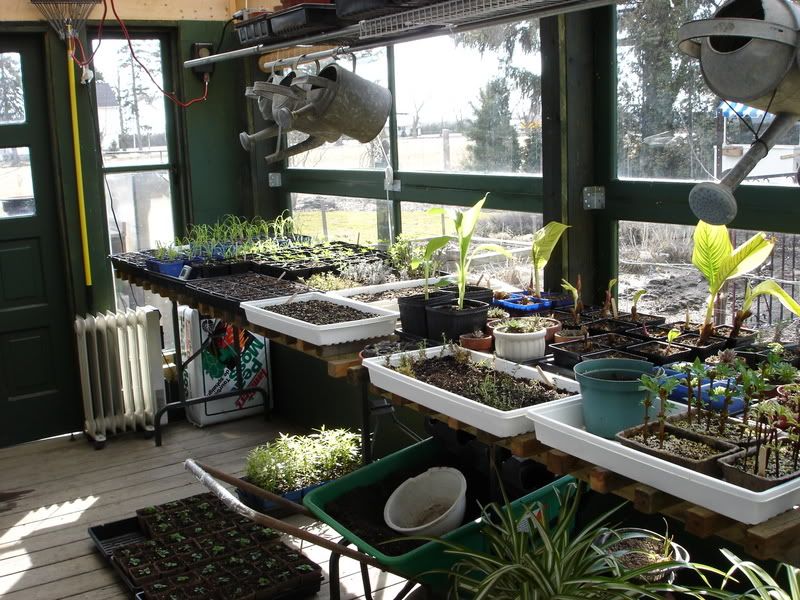 I am hatching a plan..... making use of a little studio I have already..... thinking, thinking... always outside the square. (I have never understood that square and didn't even know there was one until a few years ago!)
Here is my little studio which, oddly, has south facing windows but a roof that slopes north.... so.... if I were to remove the overhanging buddleia and build a glass section on the northern side, I'd have THE most perfect glass house and potting shed all in one!
A Pickle update.....
Pickle is scanning the garden for rabbits. His feet are actually on the outside window ledge! Such simple pleasures.